Welcome to our home : camping la baie des Veys
Our vacation spot is located in Sainte-Marie-du-Mont in the Manche region of Normandy, world famous for the D-Day landing beaches, close to Sainte-Mère-Eglise, Saint-Côme-du-Mont, on the historical sites of the Second World War (Utah beach). It is located by the sea, near the river Douve, Taute, 500 m from a bird sanctuary, 5 km from a nautical base.
Discover this 3 star campsite which offers 58 pitches including 24 rentals (chalet, mobile homes, cottage).
Nature

,

comfort

,

calm

Our green spaces are maintained every day to optimize and personalize your accommodation. A focus on nature, plantations, trees and flowers for your nature stay! During your stay, you will be able to take advantage of our services such as the restoration, a modern swimming pool, heated to 28°.

A clean, comfortable and well-maintained aquatic area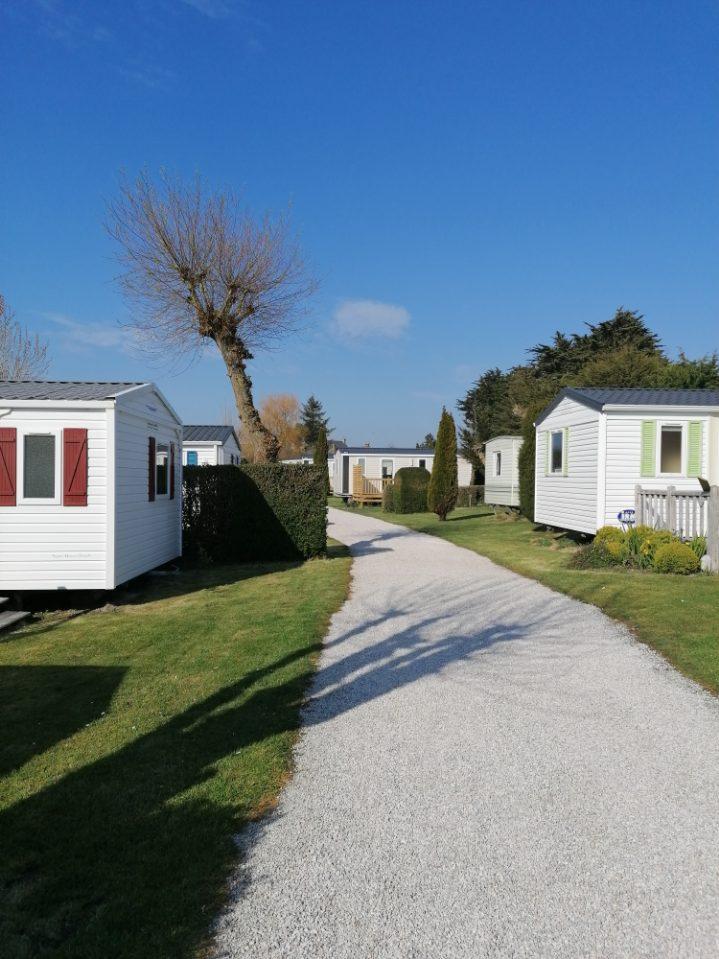 Our campground
The campsite la baie des Veys is located in Normandy in the Cotentin region at the seaside with a heated swimming pool at 28°.
Our campsite is located in the heart of a remarkable natural site where you could see seals, wild vegetation but also many species of rare birds…
Come with your binoculars to observe them discreetly! For nature lovers, it is a small paradise: we are close to the Beauguillot bird sanctuary and many other natural sites. Unusual accommodations for a vacation like no other! Normandy is also the cradle of impressionism. The attraction of the Norman land and sea landscapes, a source of inspiration for the impressionist painters. Discover all the services offered in our campsite!
What's new in La Manche ?
From the music festivals to the D-Day beaches and the National Nature Reserve of the Beauguillot domain, we share with you all the activities for your stay
Every year since 2007, the D-Day Festival Normandy offers a program of festive events in the context of the anniversary of the Allied landings in Normandy on June 6, 1944. From Saturday, May 27 to Sunday, June 18, 2023, come and celebrate your newfound freedom!
read more
Our clients testify
They had a nice stay in our *** campsite and they talk about it.
Here are the latest Google reviews from our customers that we love!
Camping très agréable calme. Super bien arboré. Mobilhome très propre et des gérants très sympathique.
Accueil au top , propreté irréprochable, camping très bien entretenu et gérants très agréables
super sympa ce camping g recommande Toujours aussi bien 👍et nouveau Mobil home au top 👍💖
Un beau séjour midweek Tout est joli, propre,calme et accueillant dans ce petit camping de campagne en bord de mer. Nous y avons passé un séjour très agréable !
Camping très bien je conseille à tous accueil très bien
Wunderschöner Platz in einem Jagdgebiet Der Platz ist in einer wunderschönen Landschaft gelegen und sehr hübsch angelegt. Alles ist sauber und gepflegt. Die Toiletten und Duschen sind ordentlich, Klopapier muss man mitbringen. Einzig negativ ist die Lage inmitten eines Jagdgebiets. Mit einem Hund der nicht schussfest ist und Angst vor Knallerei hat, sollte man den Platz in der Jagdsaison (ab August bis zum Frühjahr) meiden.
Petit camping à "taille humaine" très bien tenu. Sébastien et Sébastien très efficace et sympathique, nous n'aimons pas le camping et ils nous ont réconcilié avec ce dernier. Merci. A bientôt 👍
Kleiner, schnuckeliger Campingplatz mit vielen kleinen Ferienhäusern. Gutes, neueres Sanitärhaus, kleiner Pool und kleinem Restaurant. Leider befindet sich in der Nähe nicht nur das Naturschutzgebiet, sondern auch eine Entenjadg und das Schiessgeräusch mag mein Hund nun gar nicht!👎👎👎